How to Create a Winter Emergency Kit for your vehicle
Winter is almost here! In fact, many parts of the country are already feeling the wintry blast and seeing snowflakes. Now is the time to create a winter emergency kit for your vehicle that will help you through some chilly situations. It doesn't involve a lot of money, but you do need to plan ahead.
Create a Container
Anything that goes in your emergency kit needs to have a home in your trunk or back of your van. You may want to buy a Rubbermaid tote with a top or you can use an extra zip-up duffel bag from your closet. Whatever you choose, make sure it is self-contained and can be closed so you don't lose all your emergency gear.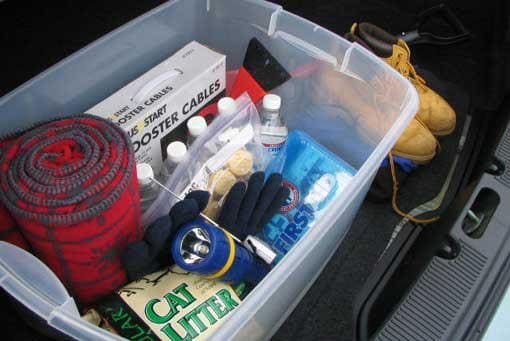 Plan your Supplies
There are some basic things you need to include in your winter emergency kit. Here are a few of the main essentials:
Flashlight/Batteries

Blanket(s)

Water Bottles

Snack Bars/Trail Mix

Flares or Glow Sticks - not only will these help someone find you if you are stranded, but they can also keep the kids occupied and entertained

Whistle
Depending on the ages of your children, you may have specific supplies you need as well. You don't want to be stuck in an emergency situation with no diapers or wipes. Stash some of these in your vehicle emergency kit.
If you have family members with specific health concerns, think about what they would need if you were stranded in a vehicle in the winter months. Do they need an extra inhaler? Specific medicines? Think about how those medicines or supplies would handle a cold vehicle and plan accordingly.
Check Your Supplies Mid-Winter
Schedule a reminder on your calendar to check your vehicle emergency kit the first week of January. You may notice that you need to replace batteries or add other items to your bag.
The time to get prepared for a winter emergency is now - before the situation is actually a reality. By spending a few minutes today getting prepared, you can rest easy.
What do you think is important to stock in a vehicle emergency kit?
Author Note: Jesica is the owner/editor of the popular parenting blog Mommy Bunch. In her blog she talks a lot about personal experience, as well as provides incredibly helpful tips to parents, and noteworthy tips such as this one.