Planning a road trip can be TONS of FUN! I know I LOVE to plan, do my research online and, of course, SHOP! It's my favorite thing! BUT, I plan to OVERSHOP and OVERPACK. These 2 things are NOT good for a family on a budget! But why is overpacking NOT a good thing? Well, then that limits the room you have in your vehicle for your family road trip!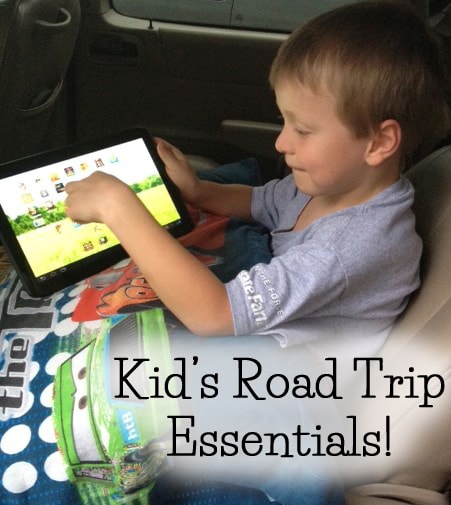 I have put together a list for you to make sure your Road Trip with the Kids has everything you need...and the kids want! :)
FOOD - One nice tip is to make sure that you have a small, lunch size, hard cooler in the backseat...FULL with the following:
Individually packaged, crumb free snacks: such as Goldfish Crackers, Fruit Snacks, Fruit Roll-Ups, Chewy Granola Bars

Bottles of water: Instead of buying the full size 16 oz or larger bottles, many companies offer the smaller 8 oz bottles which are perfect for little hands! *Bonus Tip* Plus, you can save the bottles to refill at gas stations!

Juice Pouches. NO explanation needed!

Smuckers Uncrustables. We can't have a road trip in our family without these! They come to you, frozen, and they will last in the cooler ALL DAY...and thaw by the time the kiddos want a nice snack!
ACTIVITIES - It's good to grab a reusable tote bag and throw in a few activities for the kids, or one of those handy-dandy picnic utensil holders to store markers, crayons and paper! Remember...the Dollar Store is your best friend! :)
Play "On-the-Road" Games! For example: There are a BUNCH of travel, magnetic mini board games at your local retailer. Some other games include License Plate Bingo, I Spy and a Road Trip Scavenger Hunt!

Dry-Erase Board. Oh my kids LOVE these things! Even my teen girls!

Books or Kid's Magazines. You can NEVER go wrong with a good book! Maybe your child is in the middle of an awesome children's book series, such as Captain Underpants or Magic Tree House...bring along a few of them, so they don't lost track of the series while on vacation!

Portable DVD Player or Tablet. We can't go on ANY road trip without our iPads all charged up and full of movies and TV shows with the kids!
HANDY EXTRAS
Jump Rope and small Playground Balls. Bring these along for when you stop at a park/playground for a picnic! This will give the kiddos more play opportunities to get out there are stretch their legs!

Plastic Shopping Bags. These pare the perfect size to collect trash from the snacks!

Wet-Naps or other anti-bacterial hand wipes or even Baby Wipes will do the trick on sticky hands!

First Aid Items. Including Band-Aids, Neosporin to-go spray, Tylenol or Ibuprofen.

Clorox or other disinfecting wipes for car clean up or to clean picnic tables.

Kid's Pillow and small blanket. They may or may not want to rest and nap, might as well be prepared!
Have any other tips to share? Make sure you create your own list so your Road Trip with the Kids can fun and carefree...the way they were meant to be!
Author Note: Mary Jo Moesch is a professional blogger, writer and owner of the blogs The Real Mommers, and Saving Green in the Bay--a Green Bay area savings site.